Ph: (07) 3881 0384
HOME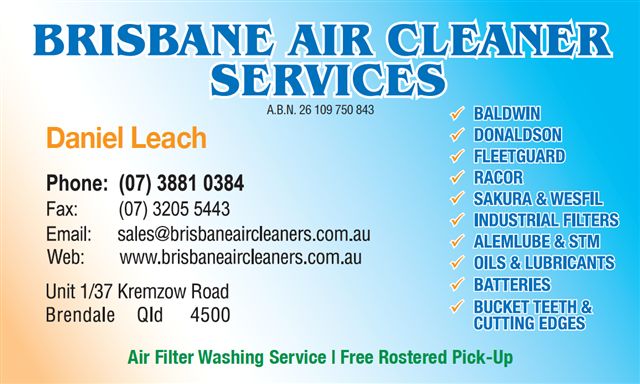 ABN: 26 109 750 843                                        FAMILY OWNED COMPANY   EST. 1977 
 BALDWIN , DONALDSON , FLEETGUARD , SAKURA , FILTREC , PARKER , RACOR , WESFIL, ALEMLUBE ,  McNAUGHT, MANN , PENRITE , Hi-Tec OILS,  COOPERS , McKAY,  IFS FITTINGS  ,  DIGGA ,  AUGER TORQUE , ANT,  INOX , PRIXMAX COOLANTS, SUPERCHARGE  BATTERIES, FUCH LUBRICANTS,MOREYS OILS , RACEWORKS , BMC FILTERS, C E M, STM.
Hours:    Mon to Fri     8.00AM  to 5.00PM
SHOP STILL OPEN DURING CORONA VIRUS SHUTDOWNS
                                                             Brisbane Filters and More 
           Brisbane Air Cleaner Services
                                                                   is an Australian owned
establishmen
t
Located at  1-37 Kremzow Rd Brendale 4500, Brisbane, South Eastern Queensland,Australia.
      We clean and test air filter elements for:
Industrial ;  Automotive ;  Dust Collectors ;  Bag Collector Socks.
We have all the correct advice on products we sell and we stock  a large range of filters at Brendale to suit your requirements.
If you are interested in air filter element cleaning to  help save  you money, or replacing unserviceable filters contact us for a competitive price.
We inspect each filter during the washing process and have a test proceedure to make sure each filter matches the manufactures original performance 
We also offer free limited weekly pick-up and return service by our delivery van.
Trading Hours  

Monday

to

Friday

8.00am

to 

5.00pm CLOSED over XMAS
Phone

07 3881 0384 

      

 

                           

 

FAX 07 3205 5443

Updated Wed 11 Aug 2021 1:25am
---